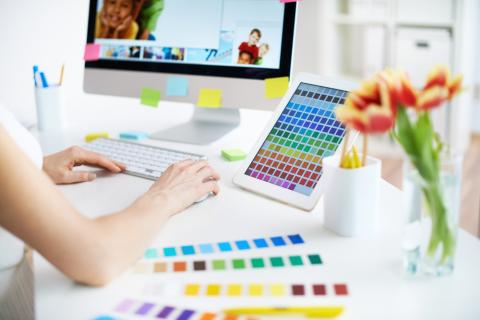 What is multilingual DTP?
Desktop Publishing (DTP) is the set of computer processes used to produce documents for printing. The quality of communication necessarily requires a graphic phase, often complementary to a translation.
Depending on the language, typographical standards vary, and some special characters, accents, and types of alphabets can impose limits in the creation of documents and greatly complicate the work of a graphic designer.
Our multilingual DTP service
To overcome this limitation, Optilingua International's translation and language service agencies bring together experts who can translate your content using DTP. Our graphic designers deal with the multilingual DTP adaptation of all your media, regardless of the type of document (technical, scientific, commercial, medical, legal, etc.), and the languages targeted. For example, we are able to offer you multilingual DTP adaptation to, or from, Asian languages such as Chinese, Japanese or Korean.
We can adapt the documents according to your needs in accordance with the intention of the original medium, taking care to apply the standards of the target language (line breaks, fonts, direction of reading, format, etc.).
Our professional graphic designers and translators, specialising in multilingual DTP all work in their mother tongue, guaranteeing you a quality product, ready to be published. 
We can translate your technical and advertising documents using the following DTP software:
Adobe InDesign
Adobe PageMaker
QuarkXPress
FrameMaker
Microsoft Publisher
Adobe Illustrator
CorelDraw
Multilingual Desktop Publishing | Advantages:
Customised packages to accommodate DTP and translation works.
Cut costs and save time by using one supplier.
Most up to date software on the market.
Professionals who can work in all languages.
Dedicated project managers to ensure the smooth running of your project.